Paul Gosling -
Ambassador for Trees -
New Zealand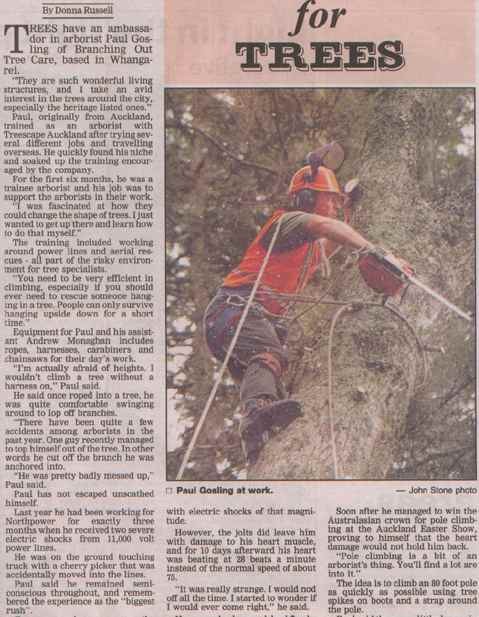 Arborist, climber, consultant tree surgeon and ecologist
Well educated and with the right contacts, Paul went to study in Papua New Guinea and Northern Territory in 1991. He fell in love with the trees of the tropical jungle, such as the giant Araucariaceae, kauri relatives, and since then has followed Araucariaceae around the Pacific.
Returning to New Zealand he embarked on an career in Arboriculture. Paul worked on many prestigous properties and big trees, not the least of them being the Tamaki Drive pohutakawas and the giant kauris of Waipoua Forest. Paul is very particular about tree care and correct pruning cuts, taking meticulous care and great pride in his work. Incidentally, in 1998 he won the coveted title of Australasian Pole Climbing Champion.
Currently Paul is involved with implementation of quality standards for tree care in Northland. He collects seed from the biggest trees in Waipoua for conservation projects, having recently received a stunning blow from the Department of Conservation when they refused to grant him a permit to collect seed. As he says, "its a real setback for the trees. We can't just sit back and watch all the trees disappear....". He said a few other things which we can't repeat.
Recently married, Paul resides with Rochelle on a tranquil 4 acres near Whangarei which they are planting up with Araucariaceae.
Paul can be contacted on +64 (09) 436 44 66
or:
Paul Gosling,
PO Box 1323, Whangarei, Northland,

A New Zealand
or via the Whangarei Tree Care Association,
(of which he is the President)
on +64 (09) 436 4466
Page last updated: 20/05/02